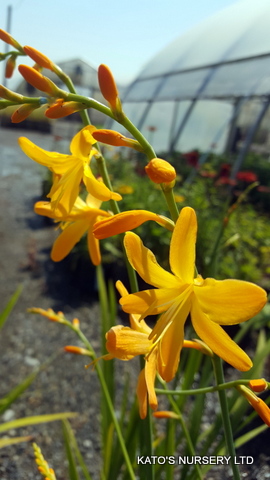 The Brilliant Colors of Crocosmia!
If you want the colors of the sunrise in your garden then crocosmia is your plant! Enjoy the explosive shades of red, orange and yellow of the funnel shaped blossoms appearing mid to late summer in your garden. This showy plant is native to the South African grasslands and is now planted widely around the world.
Description
For long lived, easy care plants crocosmia will not disappoint. They are as hardy as they are striking and will come back year after year in Zones 5 to 9. Even the attractive sword-like leaves will add a visual interest well before the blooms arrive. You will have plenty of visits from hummingbirds, bees and butterflies with these in your garden. After the blooms are done you may find birds feasting on the seed pods.
Cultivation
Once planted, they require little maintenance. They rarely need to be dug up and stored over winter except in areas lower than Zone 5. If you would like to divide them, to spread the beauty, it is best done in early spring by separating the bulbs and replanting. Crocosmia also do well in containers which is great for placing them in that opportune spot on your deck or patio to watch the hummingbirds that will most certainly come! They thrive in full sun with partial shade but produce more abundant flowers if not left to dry out. Try pairing them with some fountain grass, pennisetum hameln or piglet, for a fabulous visual contrast.
Varieties Available at Kato's:
Crocosmia 'Lucifer'- The first truly red crocosmia and the most popular, Lucifer blooms midsummer and can reach 3-4 feet in height
Crocosmia 'Emily McKenzie' – Produces large, crimson spiked, orange flowers blooming mid to late summer
Crocosmia 'George Davidson' – A unique crocosmia with striking golden yellow blooms mid to late summer
Crocosmia 'Emberglow' – Popular for its fuller bright orange flower, blooms mid to late summer
Crocosmia 'Sunglow' – Produces dainty clusters of soft golden yellow blooms mid to late summer