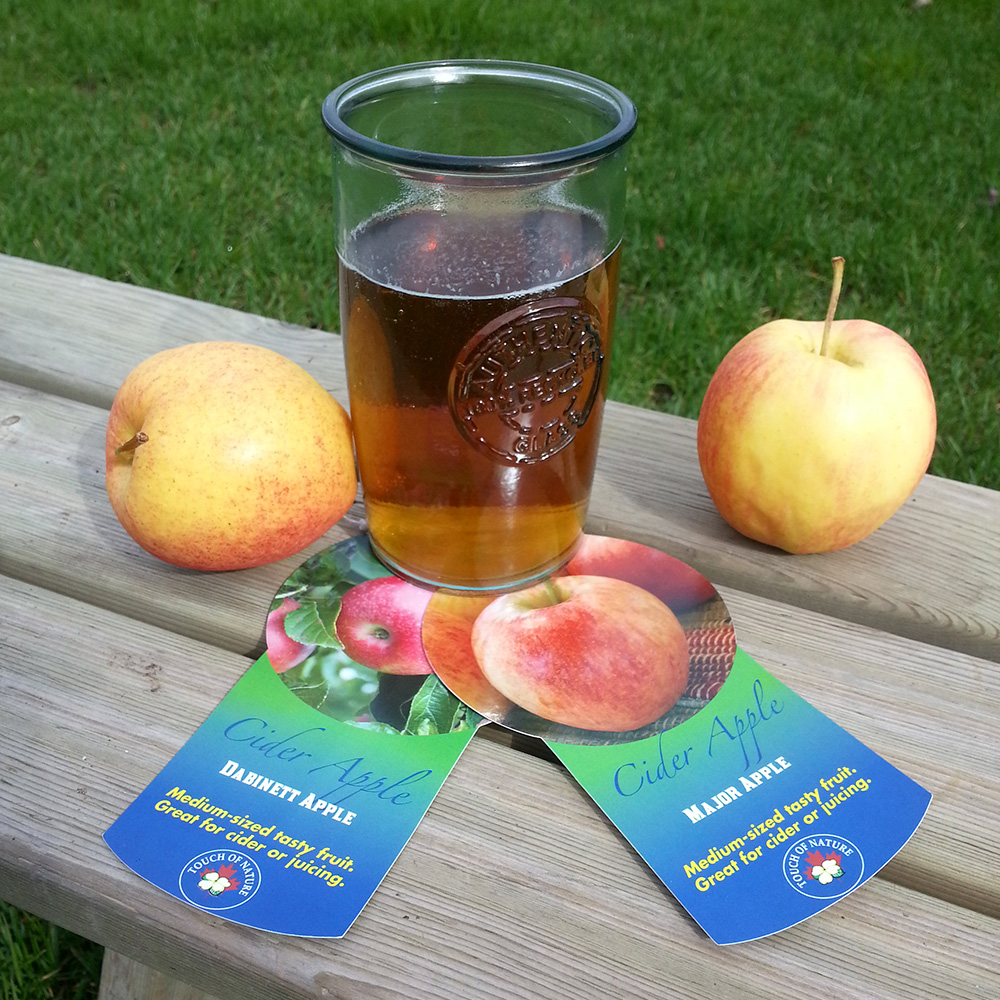 Cider Revival
So we are excited here at Kato's to be introducing cider apples to our fruit tree repertoire.
Everyone is aware that cider ( the fermented, alcoholic kind) and cideries are making a big comeback. So we would like to talk a bit about cider and the apples it is made from.
Early settler-style cider and even contemporary craft cider differs from today's mass-produced ciders. Craft ciders are made exclusively from fresh pressed apple juice, while mass-produced ciders are made using mostly apple concentrate with a small amount of pressed apple juice and additional sugars, which vary from brand to brand.
Artisanal ciders are definitely making a comeback. This re-emergence is being driven by an interest in eating local and a desire for craft drinks. The small-batch makers at the heart of this explosion have adopted the same experimental approach to cider making as the early settlers.
In most parts of the world, cider is made with completely different apple varieties than those available at your local grocery store. Cider apples can be tart, tannic, or downright unpalatable in their natural form. While these characteristics would spoil the taste of your favourite apple pie, they provide the complexity and depth to make world class ciders. But cider here is in a bit of a tight spot. Unlike in Europe, producers here mostly lack the hundred-year-old, cider-specific trees readily available in France, Spain, or England. As a result, we have acres and acres of apple trees that produce some of the worst fruit for making cider.
Happily, the recent cider boom has restored an interest in traditional cider apple varieties, and cider makers are planting acres of cider fruit trees each year. But these trees won't bear a significant amount of fruit for several years, and cider growth is far outreaching the rate of orchard growth.
Consequently, our cider makers are often forced to use the fruit they have at hand rather than the fruit they want. That means that the same varieties you see at your local grocery store such as Gala, Golden Delicious and Granny Smith are the base for most of the cider produced today. Thankfully, when blended with more structured cider fruits, these apples can still make a pleasant cider.
Besides a few private orchards, North American heirloom and European cider apple varieties, which are sour, acidic and tannic rather than the more common sweet dessert apples, have been hard to find for BC's emerging cider industry.
Cider Apples
Cider apples belong to one of four flavour categories with the expectation that a balanced flavour in the finished cider would need some juice from a member of each category. Sweets This group is low in sweetness and in tannins. e.g.Slack-ma-Girdle.
Sharps This group is high in acidity and low in tannins e.g. Crimson King. The high acidity, together with that from the bittersharp group, can add 'bite' to the cider.
Bittersweets This group is low in acidity and high in tannin e.g. Brown Snout, Dabinett. The raised levels of tannin, which tastes bitter and is astringent, adds a bitterness to the cider. A certain amount of bitterness is expected in ciders of the West Country style.
Bittersharps This group is high in both acidity and tannin, e.g. Foxwhelp, Kingston Black.
Single Varietal Cider Cultivars
Ciders traditionally have been consistently made from blending apple varieties, and the custom of making single variety ciders is considered largely a modern approach. Only a few apple varieties are thought to make a good single-variety cider. These are designated as having "vintage" quality, a term first introduced by Robert Hogg (a Scottish nurseryman) in 1888, it is understood as referring to the cultivar's ability to produce complex and interesting flavours, rather than the way the term "vintage" is used in winemaking.
Chisel Jersey is one of the most famous bittersweets originating in from around Mattock, central Somerset
Brown Snout is a bittersweet originating in Herefordshire, discovered on the farm of a Mr. Dent.
Yarlington Mill is a bittersweet, named after the mill in Somerset where it was found.
Dabinett is a bittersweet named after William Dabinett, and is from Middle Lambrook.
Major is an old bittersweet variety, found in orchards in South Devon and east of the Blackdown Hills in south Somerset.
Kingston Black is a bittersharp probably named after the village of Kingston, near Taunton, Somerset.
Although considered suitable for single-variety ciders, they all contribute well to blends.
When is all said and done if you like to drink cider why not make your own.