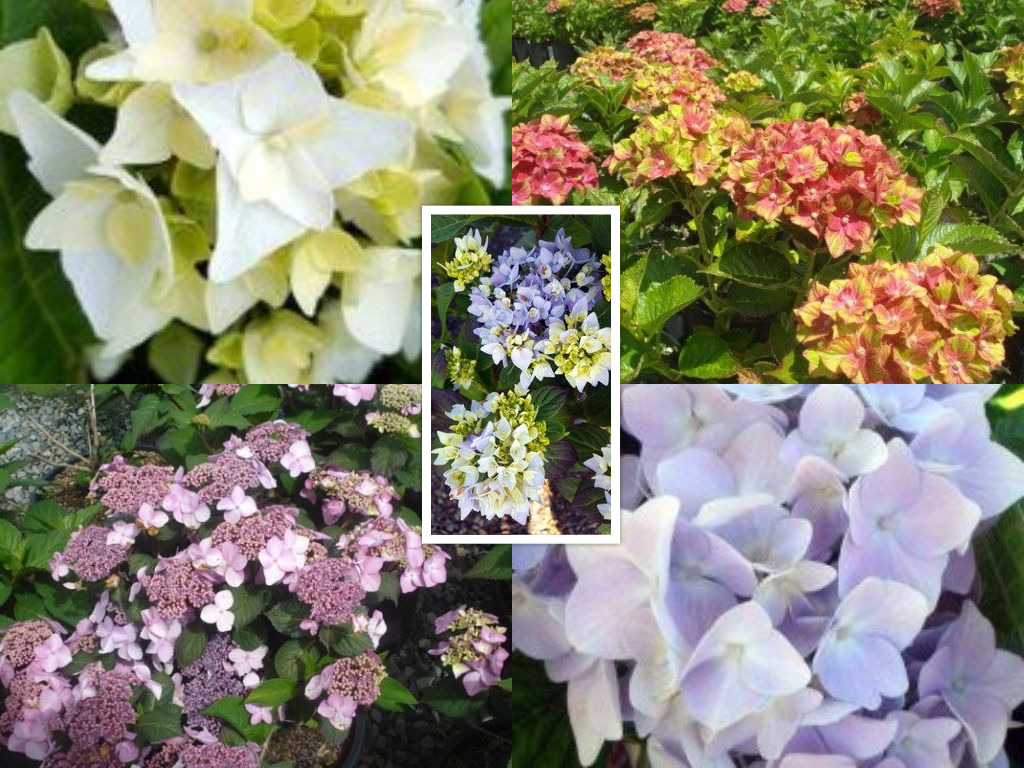 Drama Queens! Hydrangea Macrophylla will add a splash of rich color to your garden!
Hydrangea macrophylla is a species of flowering shrub in the family Hydrangeaceae native to Japan. It is a deciduous, growing to 2 m (7 ft) tall by 2.5 m (8 ft) broad with large heads of pink or blue flowers in summer and autumn. Common names include bigleaf hydrangea, French hydrangea, lacecap hydrangea, mophead hydrangea, penny mac and hortensia. It is widely cultivated in many parts of the world in many climates.
Description
The term macrophylla means large- or long-leaved. The opposite leaves can grow to 15 cm (6 in) in length. They are generally serrated.
The bloom of Hydrangea macrophylla is a corymb with all flowers placed in a plane or a hemisphere or even a whole sphere in cultivated forms. Two different types of flowers can be identified: central non-ornamental fertile flowers and peripheral ornamental flowers, usually described as "sterile". Flowering lasts from early summer to early winter.
Colors and soil acidity
H. macrophylla blooms can be blue, red, pink, light purple, or dark purple. The color is affected by soil PH. An acidic soil (pH below 7) will usually produce flower color closer to blue, whereas an alkaline soil (pH above 7) will produce flowers more pink. This is caused by a color change of the flower pigments in the presence of aluminum ions which can be taken up into hyper accumulating plants.
Landscaping
Hydrangea macrophylla look wonderful placed in a mixed shrub border or at the back of a flower bed. Their rich foliage and large size make a perfect backdrop for white or light colored flowers, even tall growing perennials and annuals. In warm climates H. macrophylla is good for adding a splash of early summer color to shady areas and woodland gardens. Minimal pruning is recommended for most prolific flowering. The exception to this pruning rule are the Endless Summer series which flower on new and old growth.
Mopheads are by far the most popular. Coveted for their voluptuous blooms, varying in size from as small as a baseball to bigger than a cantaloupe, they fill the summer border with heavenly shades of blue, pink, and white the way no other flowering shrub can. Because they are deciduous, it's a good idea to fit them between evergreens, such as camellias, rhododendrons or other broadleaved evergreens.
Lacecaps may be more understated, but they are equally stunning when in bloom. Their flower heads are slightly rounded and ringed with delicate fertile florets, and they attract bees and butterflies to the garden. Like mopheads, their flowers float atop broad, bright green, deciduous leaves. While mopheads may be showier, lacecaps are sublimely elegant. Showcase drifts of these delicate blooms in woodland settings with high shade, and mingle with drifts of ferns and hostas.
Possible uses
Amacha is a Japanese herbal tea made from fermented leaves of Hydrangea macrophylla var. thunbergii.
Amacha means sweet tea. This tea contains tannin and phyllodulcin, a sweetener 400–800 times sweeter than table sugar (sucrose) or 2 times sweeter than saccharin. It does not contain caffeine. The beverage is credited with antiallergic properties. It is also used in the prevention of gum disease.
This tea is often used in ceremonies celebrating Buddha's Birthday, in Japanese Buddhism on April 8. At that occasion, Japanese people pour amacha on small Buddha statues decorated with flowers, as if bathing a newborn baby.
Leaf extracts of Hydrangea macrophylla are being investigated as a possible source of new chemical compounds with antimalarial activity. Hydrangic acid from the leaves is being investigated as a possible anti-diabetic drug as it significantly lowered blood glucose, triglyceride, and free fatty acid levels in lab animals.
Flowers are easily air dried and are long lasting.
Varieties grown at Kato's
Hydrangea macro. Lanarth White
Spectacular lacecap bloom has a ring of white sterile florets surrounding a large cluster of pink to blue fertile flowers. Broadly rounded form effective in mass plantings or large containers. Deciduous.
Hydrangea macro. Endless Summer
The Original, the first of the hydrangea varieties in the endless summer collection, revolutionized the way gardeners were able to incorporate hydrangeas in their landscapes. It was the first hydrangea discovered that blooms on the previous year's woody stems and the new season's growth. This groundbreaking introduction was a major upgrade to Hydrangea macrophylla, or mophead hydrangeas. The Original continues to be well loved for big round blue or pink blooms.
Hydrangea macro. Endless Summer Blushing Bride
Pure white hydrangea blooms that mature to a sweet, pink blush make Blushing Bride a favorite for gardens, landscapes and cut flower hydrangea arrangements. Also blooms on old and new wood.
Hydrangea macro. Merrits Beauty
This vigorous growing plant is a pleasure to have in your flower garden. The blooms are the darkest and richest color and show off the dark green big leaf foliage in fantastic contrast. Blooms are big and globe-like, perfect for cutting. Bloom color is deep pink to deep blue but easily kept as purple in acidic soils with a little phosphorus or garden lime. First produced in the USA, this is a larger cousin of the popular Merritt's Supreme.
Hydrangea macro. 'Miss Saori'
Bred by one of the most highly respected Hydrangea breeders, and a worthy winner of the sought-after Chelsea Flower Show Plant of the Year 2014 award! Hydrangea macro. 'Miss Saori' is quite distinctive. Each fully double, white bloom is frosted with a soft rose edge, giving the large rounded flower heads a delicate, frothy appearance. This is the first of a new breed of Hydrangeas that will remain the same colour regardless of your soil type, so you are guaranteed to see these beautiful blooms at their best.
Hydrangea macro. Nikko Blue
Nikko Blueis part of the hortensia or mophead group of hydrangeas (large sterile florets arranged in globular or "mophead"- like panicles). It is a deciduous shrub with a rounded habit which typically grows 4-6′ tall. Features clusters of pink or blue florets in large, rounded, 4-5″ panicles (corymbs) which bloom in June (often earlier than other varieties) for up to two months.
Hydrangea macro. Pistachio
For a sophisticated color spin, display this compact new reblooming Hydrangea in terrace containers and flower arrangements. Each double floret on these 5″ Mophead blossoms is variably trimmed in scarlets and pistachio with a blue eye, looking very cool against bright green, toothed foliage. More disease resistant than older varieties. Blooms on old and new wood.
Hydrangea macro. Endless Summer Twist n Shout
Another in the endless summer series this lacecap produces abundant blooms on both old and new wood all summer long. Lacy, deep pink centres are surrounded by gorgeous blossoms of pink or periwinkle blue, depending on soil type. Sturdy red stems and glossy deep green leaves turn a red-burgundy in fall to offer year-round interest. Excellent in mass plantings, containers, and borders.