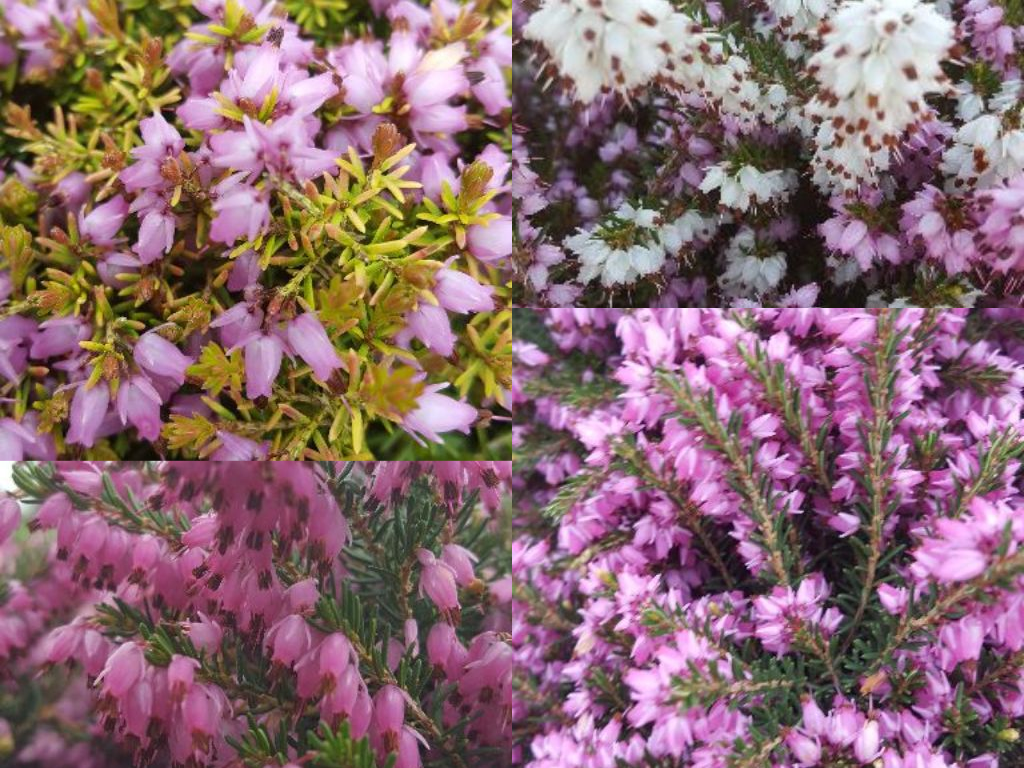 It's all about Heathers!
When people talk about heather they are usually referring to a variety of small shrubs that boast displays of pink, white or purple flowers that typically grow in rocky areas. There are two different genera of heather: heaths and heathers. They are divided into either the Erica or the Calluna genus. The only major difference between the two is winter hardiness. They are both low growing evergreen shrubs that require little maintenance. The foliage goes through some dramatic and striking changes throughout the seasons. In spring bright colors provide a backdrop for the flowers emerging in the summer. The color intensifies in early fall as attractive shades of green, yellow, bronze and red slowly take over on the stems. In late fall/early winter the entire plant transforms into a spectacular show of vibrant color.
Heaths are cultivars of the Erica genus with more than 700 varieties. There are different ranges of hardiness in these shrubs. They offer a fantastic palette of foliage and bloom color.
The heathers are cultivars of the Calluna vulagaris with more than 500 varieties available. These bloom mainly in the summer months with spires of tiny brightly colored bell-shaped flowers. The colors range from white to rose to deep purple. For colder climates these are the plants of choice, as opposed to heaths which are less hardy.
History
Originally from Europe and some parts of Asia, heather is an ancient flower that was most commonly found in Scotland.
Until the 19th century heather was looked down upon due to its reputation as a plant for the rugged impoverished properties. Now gardeners all over seek out this shrub for its spectacular shape and foliage and for the colorful flowers.
Early uses for heather include:
The heather twigs were once used to make brooms. Calluna comes from Greek word 'Kallune' which means to clean or brush.
During the Middle Ages heather was an ingredient used in the brewing of heather beer before the use of hops.
In weddings the white heather flower was said to bring luck and good fortune for the newly wedded couple.
How/Where to Grow
Heathers are a compact evergreen shrub that grows about 1-2 feet tall and 11/2-3 feet wide depending on the species. In your yard try planting heathers in rock gardens, along pathways or plant in groups to create a ground cover that suppresses weeds. Plant them with rhodos and azaleas (the same family) or with hydrangeas which prefer similar soil conditions. Their colorful shades of evergreen foliage will add a lively touch to a dreary winter backdrop.
There are many different ways to showcase plants in your garden, and container gardening is gaining in popularity as a way to add a jolt of color to your landscape without taking up too much space. Heathers are becoming a favorite to plant this way and with their four season interest they are a great choice. Plant several species and you'll have foliage and flower color at different times.
The colors of both the flowers and the foliage of the heathers will be most spectacular if planted in full sun but they can tolerate light shade. Don't fuss over your heathers, they can handle poor soil conditions and don't require regular doses of fertilizer. In fact too much can harm them, it is recommended to only fertilize them once at the time of planting. About the only work you need to do is give them an annual pruning. This should be done in the spring before any buds have formed or, for winter bloomers, after the flowers have faded.
You will certainly get regular visits from our winged friends; butterflies, hummingbirds, bees if you have these beauties in your garden!
A few of the varieties available at Kato's:
Heather Calluna Vul County Wicklow has lovely floriferous soft pink, double heather blooms from August through to October. Bright green compact foliage spreads but stays low at 25cm. It is a 1930s introduction from County Wicklow, Ireland.
Heather Calluna Vul Firefly This is one of the most colorful and showiest Heathers. "Firefly' is a multi-stemmed evergreen shrub with tiny purple-pink bell shaped flowers for several weeks in late summer. In the spring bright chartreuse and primrose yellow foliage provides a backdrop for the flowers emerging in the summer.
Heather Calluna Vul Hoyerhagen has pale crimson flowers from August to September. Hoyerhagen has a compact habit and bright orange-gold foliage which turns bright red in winter.
Heather Calluna Vul Kinlochruel is a great double white heather freely flowering from late summer into fall. It's brilliant green foliage bronzes at the tips in winter.
Heather Calluna Vul Red Fred is a late summer/early fall red flowering heather which has very lovely red new spring growth witch changes to green later in the season. Pruning after flowering will help maintain a good shape.
Heather Erica Car December Red makes a great groundcover with magenta crimson flowers in winter through spring. Dark green foliage all year.
Heather Erica Car Schneekuppe This low-growing cultivar is considered to be an improved 'Springwood White'. It bears masses of pure white bell-shaped flowers from January to March over bright green foliage. Schneekuppe is a good choice for a tall groundcover if planted tightly enough.
Heather Erica Car Springwood Pink makes a wonderful addition to a rock garden or as a ground cover. Light pink flowers which deepens with age. Blooms from January to May. The new growth is bronze turning to bright green. Springwood pink has a vigorous trailing habit.
Heather Erica X Dar. Alba is a bushy compact variety that stays fairly low. Dark green foliage makes a wonderful contrast to the long blooming white flowers. Blooms from November to May.
Heather Erica X Dar. Eva Gold is a compact, rounded, evergreen shrub foliage is light green when young, chartreuse yellow in summer, and turning mostly green by winter. Small, tubular, magenta flowers bloom from January to April.
Heather Erica X Dar. Furzey is a winter and spring flowering heather with deep green leaves and dark rose-pink flowers, from December to April. Furzey has a vigorous spreading habit.
Heather Erica X Dar. Ghost Hills is a fall to spring flowering heather. New spring growth is tipped with an eye-catching cream colour. The flowers are light pink darkening towards the tip, white at the base. Bloom time is November to May. Ghost hills can be lightly pruned right after flowering to encourage a bushier form.,
Heather Erica X Dar. Kramer's Red has the deepest rose ("red") colour of all the winter flowering heathers. Kramers Red can be lightly pruned right after flowering to encourage a bushier form.
Heather Erica X Dar. Silberschmelze "Its name means 'molten silver' and it forms a sea of small, bell-shaped, silvery-white flowers from December to May. These smother its evergreen, needle-like leaves of mid green. 'Silberschmelze' has a compact, mounding habit and has been a strong performer in the Pacific Northwest for decades. Mass plantings of this heath create an excellent groundcover for sunny locations, providing outstanding winter interest. Heaths add interest to winter containers and produce nectar that attracts bees on mild winter days. 'Silberschmelze' was found in Wuppertal, Germany, by plantsman Georg Arends and introduced by him by 1939." Ritchie Steffen / Great Plant picks
Heather Erica X Dar. Darley Dale is a charming compact evergreen to add winter colour to your garden. It has clusters of bell-shaped lilac pink flowers, from December to May, which darken as they age. The needle-like green leaves are tipped with pink-white in spring.