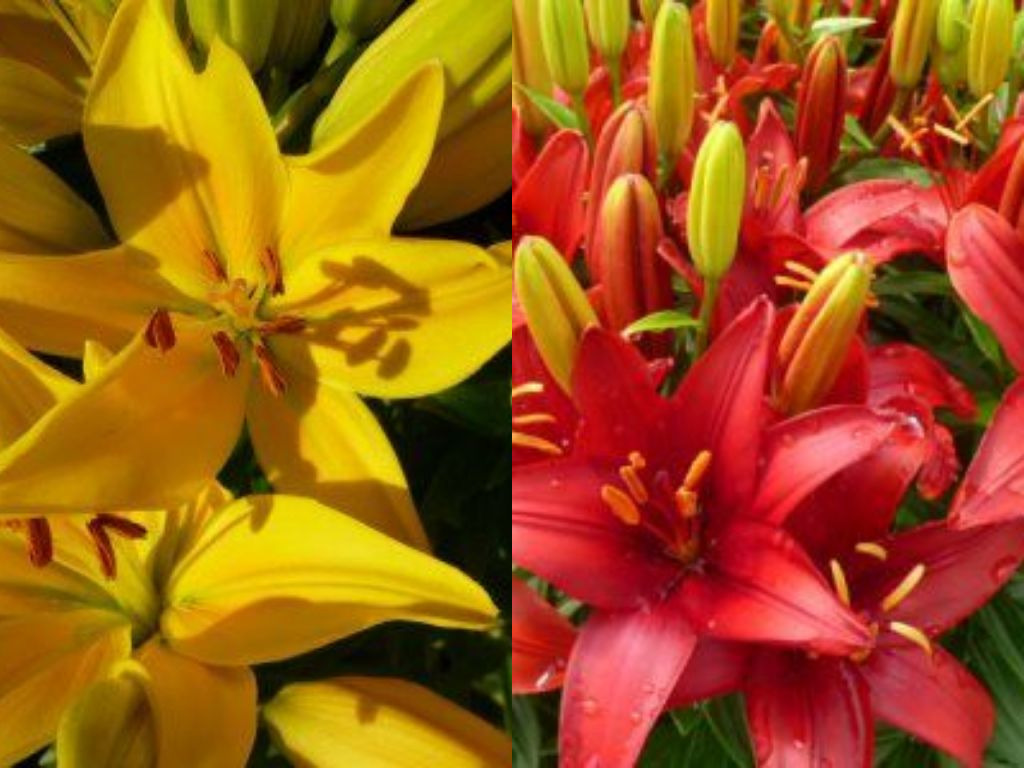 'Tiny' Lilies pack a huge punch
You may first think of lilies as that gorgeous flower in a bouquet that screams 'buy me' but these beauties are even more impressive in your garden. With many different varieties and colors to choose from they will certainly add some glitz and glam to your landscape! Plant them in clumps for the most dramatic effect and enjoy the blooms from late spring into summer. Lilium is a genus of herbaceous flowering plants growing from bulbs, all with large prominent flowers. Lilies are a collection of flowering plants which are important in culture and literature in much of the world. Most species are native to the temperate northern hemisphere, though their range extends into the northern sub-tropics. Many other plants have "lily" in their common name but are not related to true lilies.
Dwarf Asiatic Lilies
A series of genetically short Asiatic hybrids that are the highlight of the summer garden, Dwarf Asiatic lily is one of the most stunning and easy-care perennials you can grow. All you need to do is plant them into open sunny spots in your garden and stand back. These beauties pop into bloom in a variety of colors including red, yellow, orange, purple, pink, white and dramatic bi-colors. Asiatic lily flowers appear in clusters at the very top of the plant which makes them ideal for cutting gardens, patio pots and borders. The plants grow 18 to 24 inches tall and form from bulbs that get bigger and better every year. Asiatic lilies are also somewhat deer resistant. Hardy from zones 3-8.
Cultivation
Many species are widely grown in the garden in temperate and sub-tropical regions. They may also be grown as potted plants. Numerous ornamental hybrids have been developed. They can be used in herbaceous borders, woodland and shrub plantings, and as patio plants. Lilies are usually planted as bulbs in the dormant season. They are best planted in a south-facing, slightly sloping position, in sun or part shade, at a depth 2½ times the height of the bulb. Most prefer a porous, loamy soil, and good drainage is essential.
Varieties of Lilium at Kato's
Lilium 'Tiny Athlete'
One of the Lily Looks™ series developed in the Netherlands. Bred originally for containers, these are versatile garden plants as well. The dwarf habit makes them useful near the front of any sunny border where they put on a great midsummer show. This selection has large, upfacing flowers with beautiful solid soft-pink petals. Tiny Athlete is also equally at home in a rock garden. The best effect comes from massing in good-sized clumps of one variety.
Lilium 'Tiny Bee'
Showy, bright yellow flowers with black spots rise on strong stems above dark green, compact foliage. Tiny Bee blooms earlier than other lilies. Excellent cut flower. Great choice for containers or perennial beds.
Lilium 'Tiny Glow'
'Tiny Glow' has wonderful bright yellow petals with a golden yellow blush in the center of each petal. They are compact flowering on 14 to 16″ stems and great for the summer border.
Lilium 'Tiny Hope'
'Tiny Hope' bears large upward-facing rich red flowers. Tiny hope is ideal near the front of a sunny border where it will put on a great midsummer show with the most striking effect when planted en masse.
Lilium 'Tiny Invader'
'Tiny Invader' has stiff, upright stems that hold shiny, deep green, spear shaped leaves. Each stem loads up with buds that open in early summer to big, brilliant bright orange colored flowers in late June and July. Enormous flowers attract butterflies and hummingbirds. Perfect for grouping in the middle of a garden or for use in mixed containers.
Lilium 'Tiny Nugget'
'Tiny Nugget' features bold yellow trumpet-shaped flowers with a burgundy ring at the ends of the stems in early summer. The flowers are excellent for cutting. Its narrow leaves remain green in colour throughout the season.
Lilium 'Tiny Padhye'
'Tiny Padhye' has large, upward facing flowers with white petal tips stained deep red at the base. 'Tiny Padhye' is a very striking bicolor.
New Additions at Kato's
Lilium 'Tiny Pearl'
'Tiny Pearl' has delightful rich pink flowers that bloom late June into July. The huge flowers attract hummingbirds and butterflies.
Lilium 'Tiny Poem'
'Tiny Poem' revels stunning raspberry flowers with maroon, almost black throats. The color is a show stopper for sure! Blooming mid-summer.